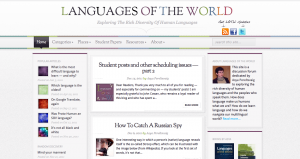 Click image for enlarged view.
URL: www.LanguagesOfTheWorld.info
Time to prototype: 8 hrs
Start to finish: 15 hrs
Went Live In: December 2011
Page Rank:

PR stands for Page Rank, and is the public view of Google's ranking of a site on a 10 point exponential scale, according to the number and quality of incoming links that site has pointed to it.
Alexa Rank:

Alexa is a web information company and subsidiary to Amazon. The Alexa Rank represents the company's ranking of a site's traffic when compared to all the other websites on the Internet.
LanguagesOfTheWorld.info is the language and linguistics blog of author and Stanford educator Asya Pereltsvaig. It had been a simple Blogspot website with outstanding writing since early 2010, and we helped transform it to a site with much more functionality, usability, and potential for growth avenues towards the end of 2011.
The opportunity to work on Dr. Pereltsvaig's site came about because of her familiarity with our previous work on GeoCurrents.info. (Dr. Pereltsvaig had been one of GeoCurrents' most avid readers and commenters, and now she writes for the site herself). Because her site was in a similar situation to that of GeoCurrents' before our renovation (that of being limited by the Blogspot platform), it was a natural fit for us to work together to renovate Languages Of The World as well.
You can see the aesthetic differences between the two versions of the site in the photos below, before a more detailed account of the potential we think we have helped unlock in the site with the upgrade.
Blogger has been an entryway for a lot of people to start publishing online. Google seems like they are finally getting around to making it a better service, but it is still far behind other content management systems in terms of the quality of site it can produce. For one, the ability to organize content is a bit cluttered from what I have seen. The only navigational system available on Languages Of The World in the "Before" site above was an archive that sorted old posts chronologically by month. If I am a new visitor to the website, who is in that crucial moment of either being won over as a fan or hitting the back button back to the sea of other sites, knowing the number of posts written by the author in June of last year gives me precious little to inform my quickly-made decision to read on or not.
On the other hand, having a neatly sorted and compact list of the most popular articles on the site–the posts that have generated the most discussion–could lead me very quickly to conclude that this is the type of writing I want to invest my time in reading. In the after picture above, the top portion of the left sidebar is exactly this functionality, placed with the intent of turning newcomers to the site into repeat and engaged readers.
Beyond these design and usability improvements, the Languages of the World renovation has also focused considerably on optimization. For a Blogspot site, LOTW was actually doing quite well in terms of traffic before we got our hands on it. Dr. Pereltsvaig had cultivated a following of avid readers and commenters, and some of her posts were bringing in outside traffic from the search engines.
However, we quickly realized that this traffic was nowhere near its potential. Like most sites out there, the meta information of Languages Of The World, which is used to communicate relevancy to the search engines, was lacking. There was also substantial potential in targeting specific keywords to rank well in at the search engines. A couple of the most obvious examples included the title keyword "languages of the world" (searched 6,600 times per month at Google) and the keyword "language blog" (searched 600 times per month). If we could provide an honest, white-hat boost to the homepage's relevancy for these terms, we could organically increase the exposure of the entire site to a very large magnitude.
As I write, we're just getting started (the launch of the site was yesterday), but by the time you are reading this some fruit may have blossomed. How are we doing? Do you see LOTW in the top 10? Do a Google search for our title keyword by clicking here.
Perhaps most importantly, the content that Dr. Pereltsvaig is spending so much of her time creating is now on a domain name that she herself owns, rather than on a subdomain of blogspot.com, whose future is nearly entirely out of her control. By making the move to her own domain, she has added a significant asset to her net worth that she is in complete, legal control of.
That is really what we aim for at K&J Productions: leaving our client with an asset that turns out being worth much more than what they paid for it. We understand our service is an investment, and our success goes hand in hand with the success of those investments. We wouldn't want it any other way.